| | | |
| --- | --- | --- |
| " | Baba Yaga hails from the place where fear and wisdom meet, she straddles the gap between life and death and holds the secret to both. | " |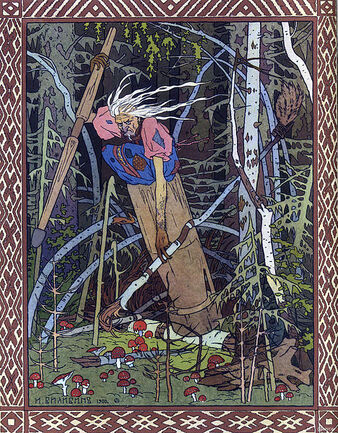 A supernatural being that appears in a recurring fashion in Eastern European folklore. In traditional stories, she is portrayed in either benefactress or villanous roles.
In the narratives in which Baba Yaga appears, she displays a variety of typical attributes: a turning, chicken-legged hut; and a mortar, pestle, and/or mop or broom. Baba Yaga frequently bears the epithet "bony leg" (Baba Iaga kostianaia noga), and when inside of her dwelling, she may be found stretched out over the stove, reaching from one corner of the hut to another. Baba Yaga may sense and mention the "Russian scent" (russky dukh) of those that visit her. Her nose may stick into the ceiling. Particular emphasis may be placed by some narrators on the repulsiveness of her nose or other body parts.